Botox, Daxibot, Dysport, Jeuveau, & Xeomin
Botox, Daxi, Dysport, Jeuveau & Xeomin
Although Botox has been the world leader in injectable neuromodulator formulas for decades, there's always specific cases in which someone may not respond well to that specific formula, which is why Dr. Rex Moulton-Barrett stocks all the latest FDA-approved formulas to help relax the wrinkles you're concerned about throughout your face.
What Are Botox, Daxi, Dysport, Jeuveau & Xeomin?
All these formulas are collectively known as neuromodulators. They contain the active ingredient botulinum toxin, a compound that interferes slightly with the nerve signals sent to your facial muscles. Some wrinkles, like those on the forehead and around the eyes, are caused by the contraction of tiny facial muscles. These are called "dynamic wrinkles" and they can be practically erased with proper injection of one of these neuromodulator formulas.
A certified healthcare provider can inject directly into these wrinkle areas to prevent muscle contractions, which causes the wrinkles to soften. Botox and other formulas are most commonly used to treat wrinkles on the forehead, around the eyes and mouth, and between the eyebrows.
Who is a Good Candidate for Botox and Neuromodulators?
People who have noticeable frown lines, forehead lines, or other facial wrinkles are prime candidates for this injectable treatment.
When you squint or frown, the muscles between your brows contract, causing the skin to furrow and fold. Over time, as your skin ages and loses some of its elasticity, these repeated contractions can cause persistent frown lines. Botox, Dysport, Daxi, and Xeomin are likely not indicated for people whose wrinkles are always present on their expression, since they're meant to stop muscles from moving, not fill in areas of lost elasticity.
Adults over the age of 22 are eligible for any of these formulas, and we recommended you come in for a consultation to find out exactly which formula is right for your skin type and concern.
What Areas Can Neuromodulators Treat?
Botox and its alternatives can be used for many common wrinkles people begin to see forming in their 30s and beyond. These include:
Frown lines between the brows
Forehead lines and wrinkles
Crow's feet (at the corners of the eyes)
Many more off-label uses
What to Expect During Injectable Procedures
A Botox, Daxi, Dysport, Jeuveau, or Xeomin treatment only takes a few minutes and the results can be seen in just a few days. The treatment itself, which usually takes about 10-20 minutes, uses a fine needle to inject your recommended formula into specific facial muscles. The procedure requires no anesthesia and can take place right in your physician's office. However, your physician may use a topical anesthetic or cold pack to reduce any discomfort.
The results from a single treatment will generally last four to six months. The use of Botox, Daxi, Dysport, Jeuveau & Xeomin on a regular basis every 4 months, typically at minimum 5-6 times, may lead to more permanent weakness of the muscle, which can provide long-term wrinkle reduction without the need for continued injections, or at least at a reduced frequency.
Some patients observed visible smoothing of their concerns as early as 3-4 days after injection. The median first onset of effect was less than a week. The maximum effect typically occurs at 30 days. The typical duration of skin rejuvenation with neuromodulators is up to 3 months but may last significantly longer or shorter in some patients.
After your treatment, you should avoid lying down for three to four hours and you shouldn't rub the area for at least 12 hours after treatment. This can help prevent side effects, including eyelid drooping. You may experience some temporary bruising or a headache after a Botox treatment, but these side effects generally resolve after a few days.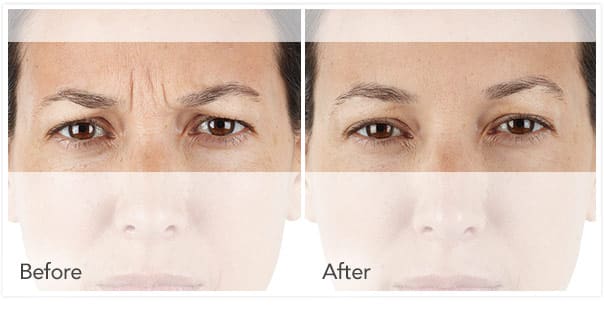 Frequently Asked Questions
[inject-faq cat='Face' sub_cat='Neuromodulators']
To find out more about available treatments and procedures, request a consultation with Dr. Moulton-Barrett at one of his Bay Area offices. Board certified plastic surgeon Rex Moulton-Barrett, M.D., offers advanced care and procedures for Bay Area residents. He has offices in Alameda and Brentwood, CA.
1280 Central Blvd, Suite J-5, Brentwood, CA 94513