Split & Torn Earlobe Repair
Split and Torn Earlobe Repair
Also known as a Split or Torn Earlobe Reconstruction
What is an Earlobe Repair?
Ear lobe repair is a cosmetic surgery used to repair the damage to the earlobe, usually by earrings. If the ear is not properly pierced, the hole may be located too close to the edge and heavy earrings can drag on the earlobe, ultimately creating a rip in the ear. An over eager toddler may yank too hard on an earring or a dangling earring may become caught without your knowledge.
For years, many women and men felt they had no choice but to live with the painful, and at times embarrassing, consequences of these accidents. Today, earlobe reconstruction in our Alameda and Brentwood practice is an increasingly common and safe cosmetic surgery procedure that can repair your stretched or torn ear.
What to expect during the Earlobe Repair procedure?
Depending on the type of tear, reconstruction may take on different forms. Dr. Moulton-Barrett will work with you to determine the best medical option that is also most aesthetically pleasing to correct your tear. Injection of local anesthetic numbs the earlobe. The anesthesia will wear off after several hours, and most patients do not require any pain medication, other than Tylenol or Advil.
For a torn earlobe, the procedure consists of "freshening" the edges of the split by removing a small amount of skin. Then using fine sutures, the split is stitched together. To change the shape of the earlobe, unwanted tissue is removed and the area is sutured. A flap repair technique is typically used to reshape and correct your torn ear. This technique also helps to minimize scaring. We use clear stitches that will not be visible. If you wish to have your ears re-pierced, they can be done so on the day of the surgery. For proper healing, it is recommended you keep the new studs in your ears for at least two months following the surgery.
What to expect during the recovery for the Earlobe Repair procedure?
There is virtually no downtime following ear lobe reconstruction. To prevent infection, you will need to wash and disinfect your ear with soap and water and apply a thin layer of antibiotic ointment. You should also take care while blow-drying your hair so as not to inadvertently burn your ear.
Your stitches will be removed approximately two weeks following surgery. You may wear clip-on earring six weeks following the surgery, or change your studs approximately two months following surgery. These time frames are an estimate, and may be adjusted if there is any sensitivity at the surgical site. To protect against tears in the future, we suggest you wear only light-weighted studs.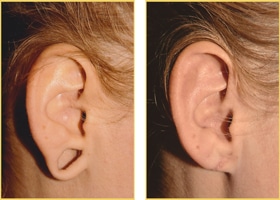 To find out more about available treatments and procedures, request a consultation with Dr. Moulton-Barrett at one of his Bay Area offices. Board certified plastic surgeon Rex Moulton-Barrett, M.D., offers advanced care and procedures for Bay Area residents. He has offices in Alameda and Brentwood, CA.
1280 Central Blvd, Suite J-5, Brentwood, CA 94513