Also known as a Lipoplasty
There is no better way to get rid of pesky fat that does not seem to be affected by diet and exercise than liposuction, also called lipo for short. Lipoplasty is a favored procedure for hundreds of thousands of patients all across the country.
If you find that you have small bulges of fat, you may be a perfect candidate for this procedure. Although some people think that it involves removing large amounts of fat, lipoplasty is actually used to mold and sculpt the buttocks, thighs, and abdomen. New techniques have led to the expansion of liposuction procedures to include the neck, ankles, and knees. Liposuction can be performed as its own cosmetic procedure, or with other procedures such as a tummy tuck, facelift and a breast reduction.
What to expect during the Liposuction procedure?
Before the procedure starts, you will be given an anesthetic. Depending on how much fat is being removed and the type of liposuction being done, you may get local anesthesia or general anesthesia. With general anesthesia, you will be "asleep" during the procedure. Once the anesthesia has taken effect, the surgeon will make small cuts, insert a suction device inside the cut, and remove excess fat using a suction pump or a large syringe. How long it takes depends on how much fat is being removed. There are a few of different liposuction techniques:
Laser Assisted Lipo—This version, nicknamed SMART Lipo, is very accurate and uses lasers to burst fat cells before removing them from the body via cannula.
Tumescent Lipo—A saline solution mixed with epinephrine and painkiller is injected into the fatty tissues that the surgeon is scheduled to remove. This solution breaks down each fat deposit, making it easier for the surgeon to remove from the body. This procedure can ease pain after surgery and reduce blood loss during the surgery.
Ultrasound Assisted Lipo—Rather than using lasers or a saline solution to rupture fat cells, they are liquefied using ultrasound waves.
What to expect during the recovery for the Liposuction procedure?
When liposuction is an outpatient procedure, people usually recover quickly. Most people can return to work within a few days and get back to normal activities within two weeks. You should expect bruising, swelling, and soreness for at least a few weeks. Your surgeon may require you to wear a compressive garment for one to two months after surgery to control swelling. However, every person is different. Dr. Moulton-Barrett will discuss what results you can expect to achieve and how to best maintain your new body shape. Read more about Dr. Moulton-Barrett liposuction aftercare.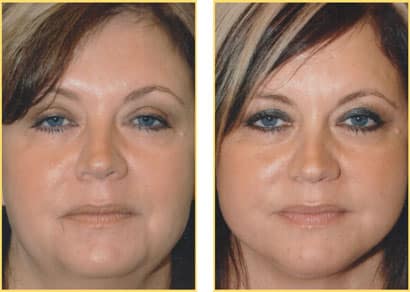 To find out more about available treatments and procedures, request a consultation with Dr. Moulton-Barrett at one of his Bay Area offices. Board certified plastic surgeon Rex Moulton-Barrett, M.D., offers advanced care and procedures for Bay Area residents. He has offices in Alameda and Brentwood, CA.
1280 Central Blvd, Suite J-5, Brentwood, CA 94513